As foodies, we found it a bit embarrassing to admit that when we look at the dinner table, the dish that most appeals to us is a beautiful salad. We pondered this phenomenon for a while and remembered that at almost every large family meal, there's always one superb, festive salad that simply steals the show, putting the other esteemed, reputable dishes to shame.
We turned to Chef Eyal Gimshi, owner of Hamaadanya, and we challenged him with a request that may have seemed presumptuous in the culinary scene – Make us a salad! An irresistible salad, the type that causes dinner guests to fight over it leaving the salad bowl devoid of even a single leaf by the end of the meal.
Luckily for us, Eyal accepted the challenge, and with a humble, winning smile, he made us no fewer than three delicious salads as well as a perfect spin on a light fruit salad for dessert.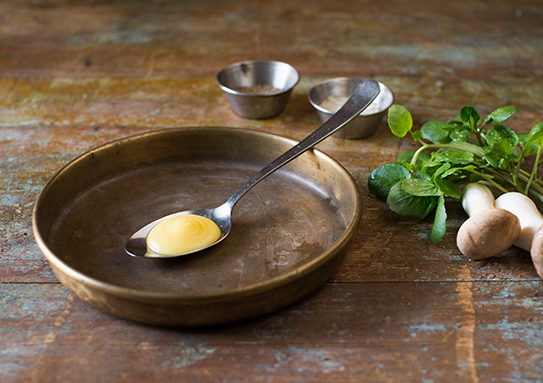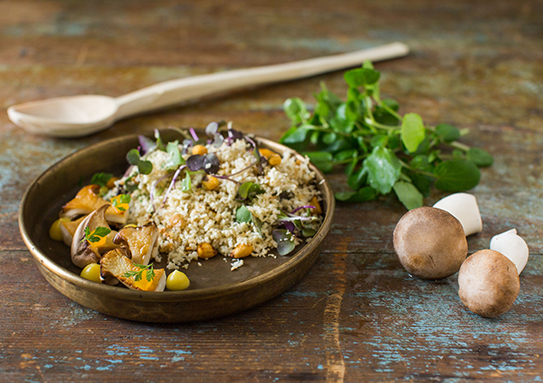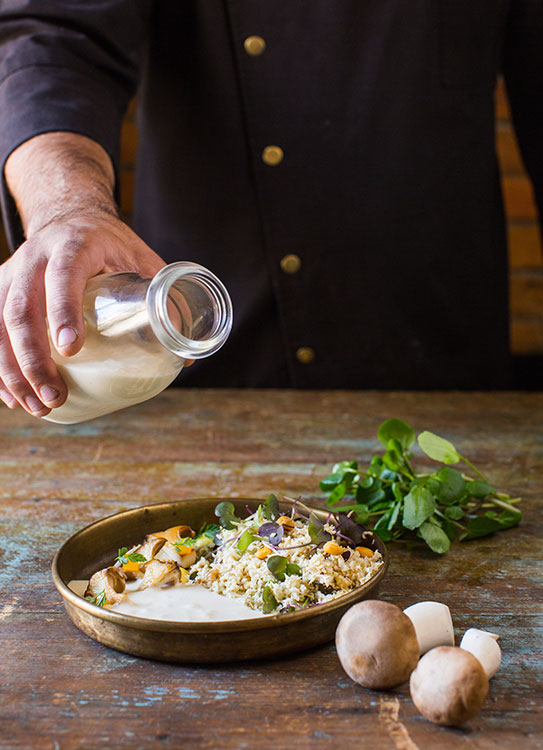 Cauliflower crumb salad with crispy corn, seared orange cream, eringi mushrooms, and leek velouté.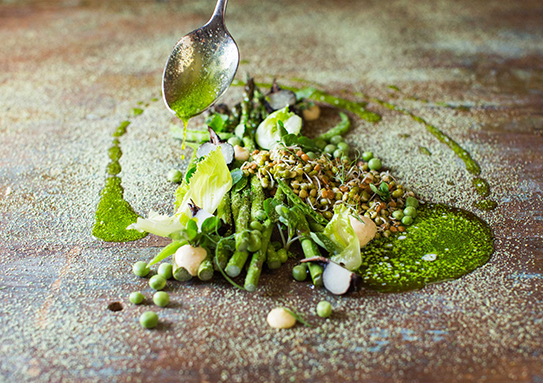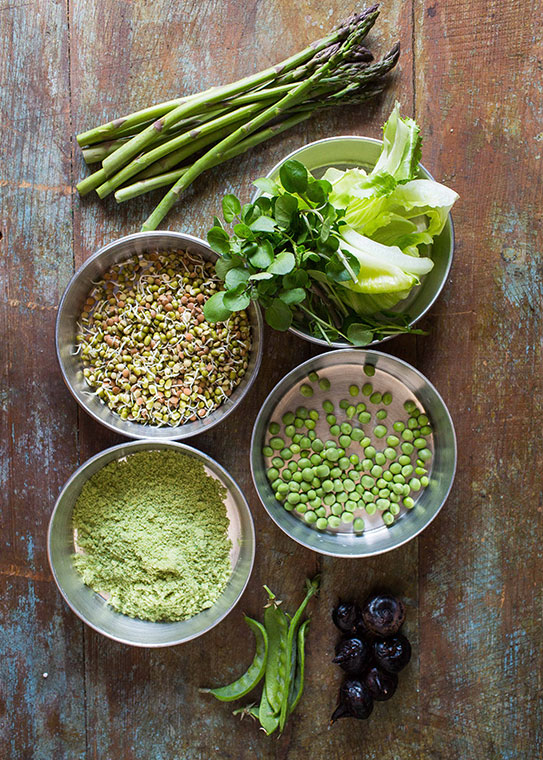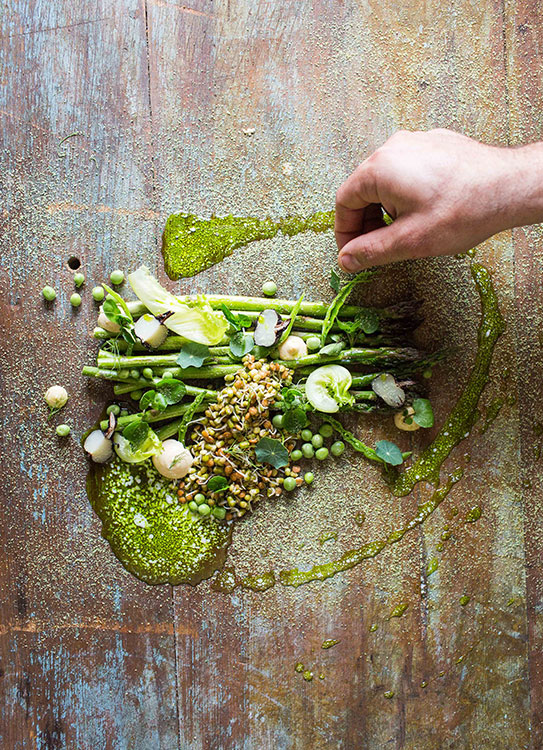 Blanched asparagus salad with water chestnuts, sprouted grains, fresh peas, lemon aioli, herb oil and yogurt.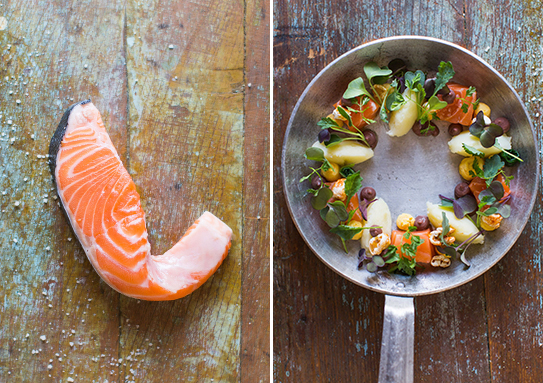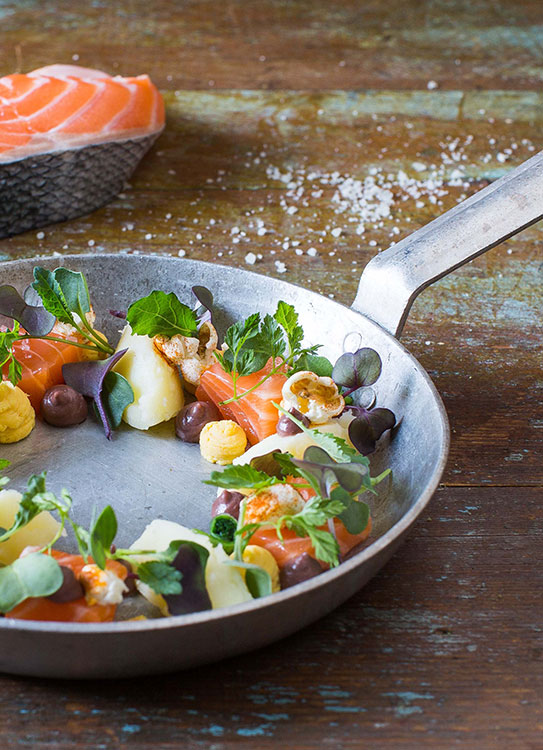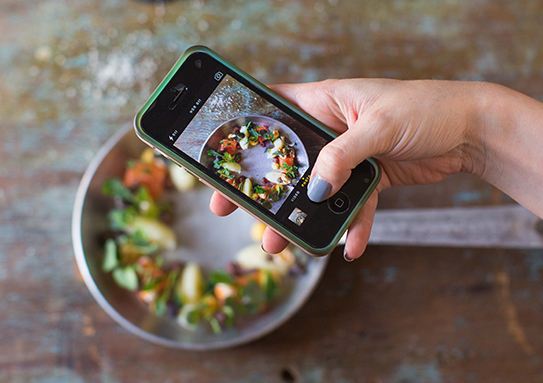 'Niçoise' salad, poached salmon, egg yolk, kalamata olive cream, garlic aioli confit, bok choy, radish sprouts, baby kale and sour fork-mashed potatoes.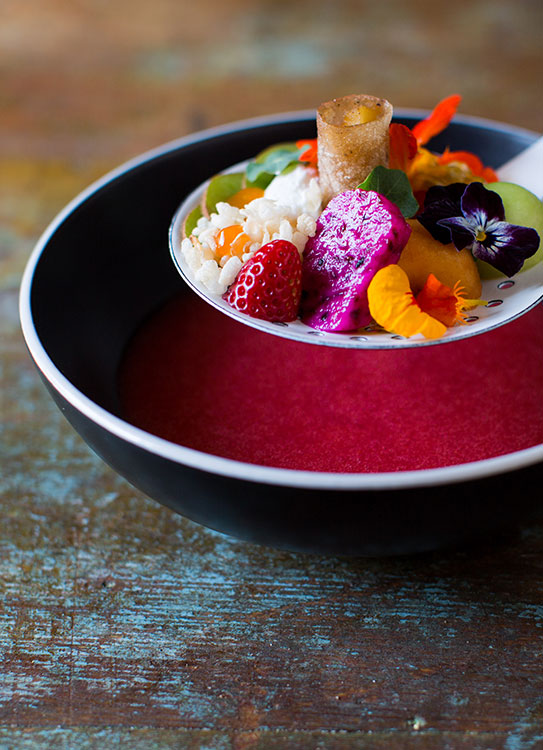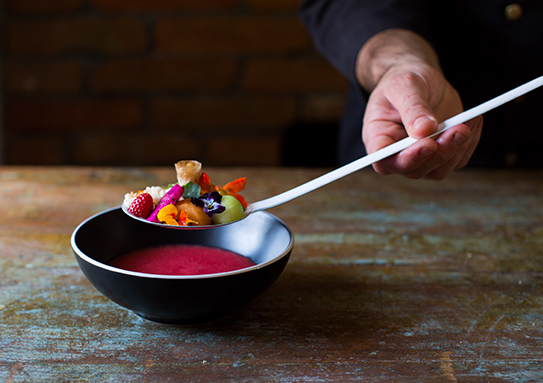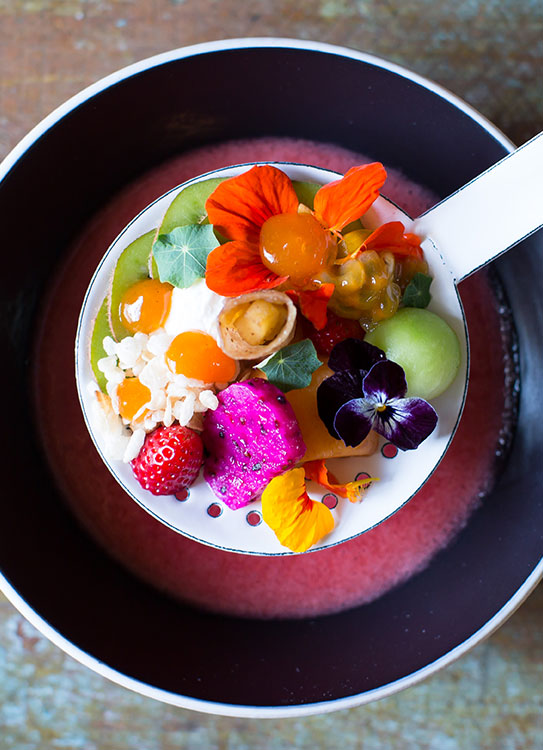 Strawberry and Muscat wine 'soup,' chopped seasonal fruit, whipped cream, and crispy rice served with 'apple pie.'
It was a tough decision, but of the three salads on offer we ended up choosing the cauliflower crumb salad for our holiday table and of course the magnificent dessert, which we were confident would be the star of the show.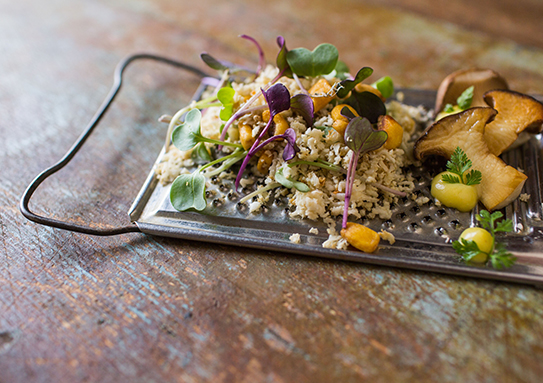 Cook-at-Home Cauliflower Crumb Salad by Chef Eyal Gimshi

Serves 4:
2 washed cauliflowers
½ cup toasted corn (from bulk section)
1 bunch broccoli or radish sprouts
1 cup coarsely chopped mushrooms (can be any type of mushrooms)
3 leeks, washed
1 clove garlic
½ cup lemon juice
½ cup cilantro, finely chopped
2 heaped tbsp. butter
1 ½ cups cream
Directions:
Stir-fry the coarsely chopped mushrooms in a very hot pan with a drizzle of canola oil until lightly golden (no more than 2 minutes). Use the small grater setting to grate the 2 cauliflowers. Place in a bowl with toasted corn, lemon juice, salt, pepper, sprouts, stir-fried mushrooms, and cilantro.
For the dressing:
Heat butter in pan. Add finely chopped leeks and a cup of water, and boil until leeks are softened. Add cream and simmer for 5 minutes. Puree in an immersion blender and chill in the fridge. Spoon dressing onto serving dishes and top with cauliflower mix.

Bon appétit!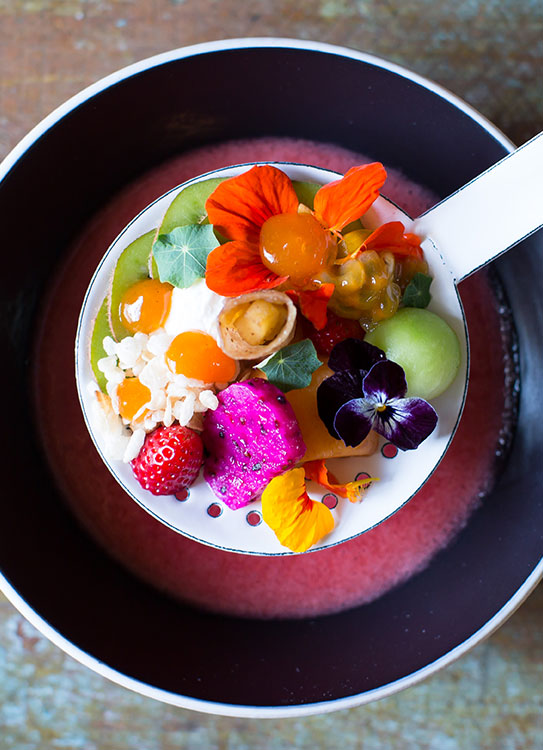 Strawberry 'Soup' with Seasonal Fruit by Chef Eyal Gimshi

Serves 4:
1 kg strawberries
2 cups Muscat wine (or any sweet dessert wine)
3 tbsp. castor sugar
1 cup whipping cream
Selection of seasonal fruit prepared for a fruit platter
Directions:
Blend the strawberries, wine and castor sugar into a thick soupy texture and chill. Whip cream until stiff and chill.
For serving:
Place the fruit in a wide-rimmed platter. Pour strawberry soup onto fruit so that fruit pieces poke out of the soup. Add a heaped tablespoon of cream. Can be garnished with green mint or basil leaves and served with a refreshing sorbet.
Credits:
Photographer: Assaf Revivo Solance Creative Minds
Chef: Eyal Gimshi
Dishes and accessories: Meda Romanian Home Goods and private collection

Related articles