The summer is slowly coming to a close, and the endless hours we spent with our children in every park imaginable have made us miss our partners. An impromptu romantic dinner, a bottle of wine and some background music, on the porch or in the living room – that's just what we were craving.

And of course, seeing as the best lovers are undoubtedly the Italians, it was clear that Italy would be our inspiration for a romantic meal for two.
All we wanted was to pull up our sleeves, hang a tea towel over our shoulders, and get to work. Perhaps some background music, a head start sipping on wine while cooking, and we were set.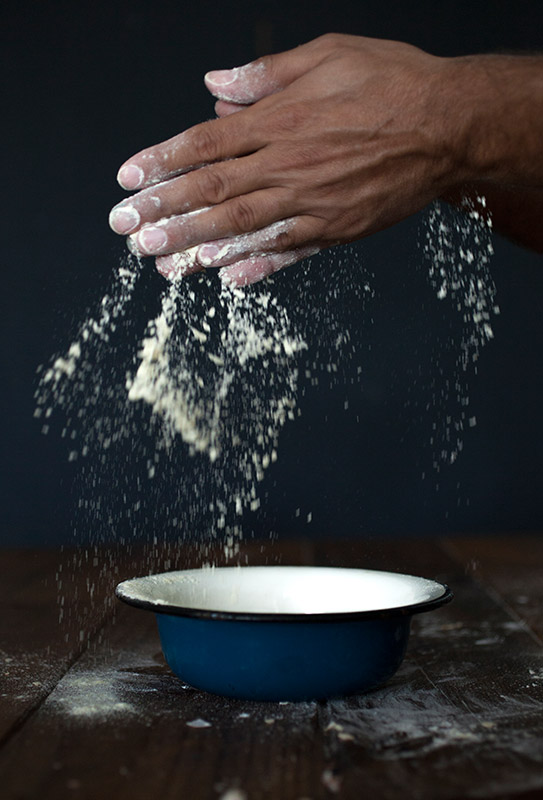 We turned to Liran Gruda – chef, culinary entrepreneur, and molecular genius, to teach us how Italians do it right, and for a contemporary twist on time-old, traditional dishes.
Groda, who is currently launching a new molecular initiative making unique ingredients accessible to any professional or amateur cook, pulled up our sleeves and showed us what we can prepare out of just a few choice ingredients.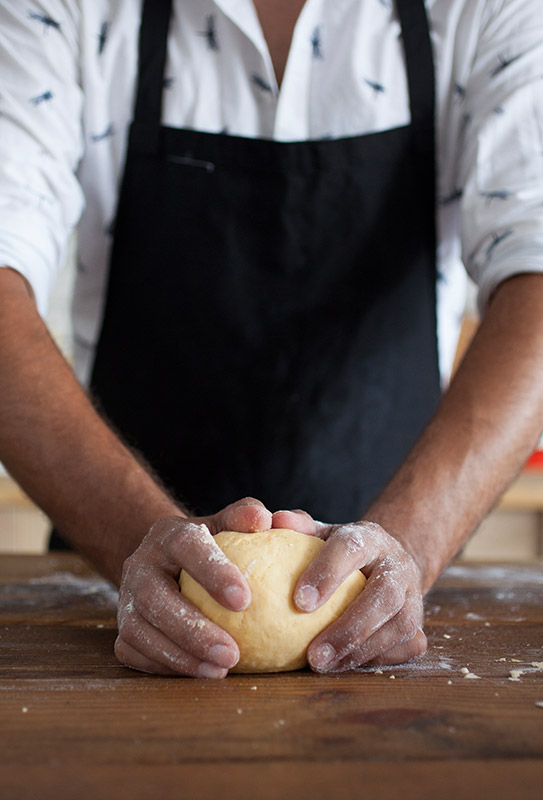 Spirulina, the acclaimed trendy superfood seaweed lauded for its superior nutritional qualities, contains chlorophyll, which is the green component in spinach adding the vibrant color to fresh pasta. Traditional Italian linguine made with Norwegian salmon, berries, gooseberries, pineapple and strawberries, all freeze-dried using innovative technology to be served as an accompaniment to a superb delectable mascarpone dessert.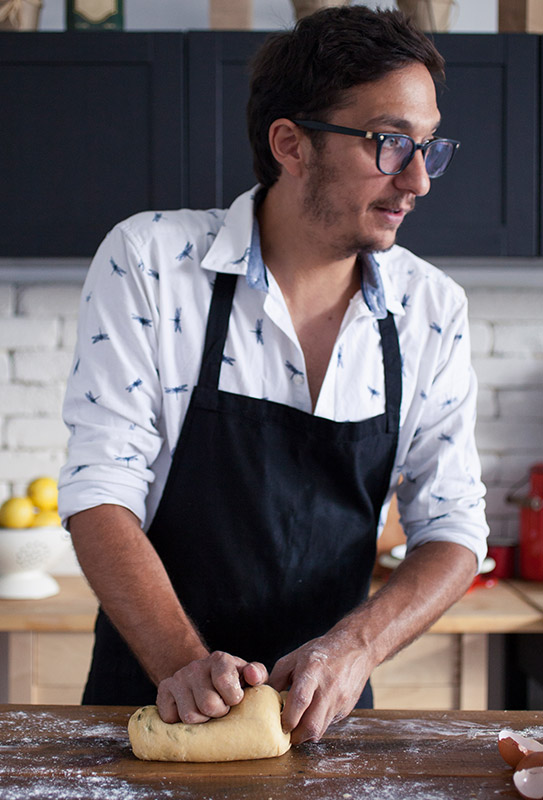 In our house, a deli themed meal is one of our favorite endeavors. In order to plan this type of meal, all you need is to open the pantry and gather deli foods to improvise with in the kitchen. Pickled artichoke, sun-dried tomatoes, quality olive oil, Modena balsamic vinegar, good olives, anchovies, among other ingredients. This is how it works with our Italian meal as well – classic quality pantry items are assembled to create these dishes.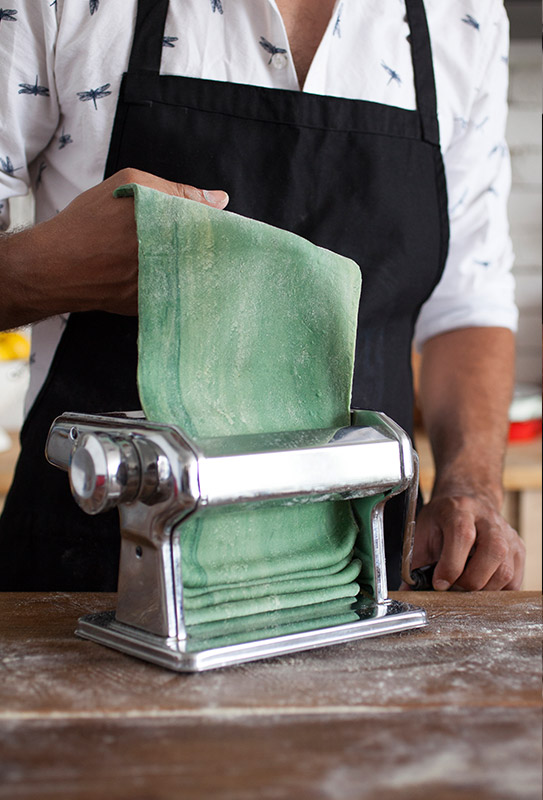 Many people feel intimidated by the idea of making fresh pasta at home. There is something daunting about a pasta machine and about the seemingly complicated process. In truth, it's incredibly easy. Anyone with experience in baking or making dough will find that pasta preparation is surprisingly easy, and the end result has a taste that stands alone.
Forget the image of cookie cutter industrialized pasta wrapped in cellophane. There's no need to be precise when cutting fresh pasta – there is a great deal of charm in roughly cut pasta. If you find yourself hooked, you can buy professional appliances to cut and shape the pasta. For starters, all you need is a work surface and a knife. And a pasta machine, of course.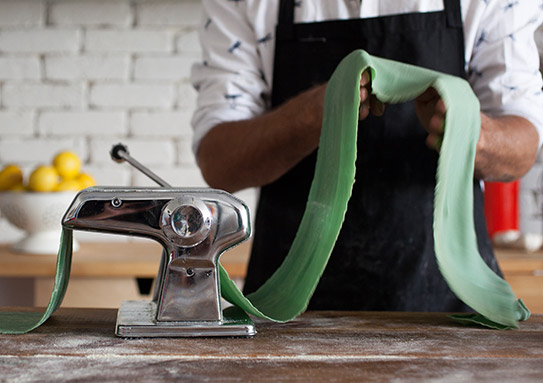 The wine chosen to accompany our meal was the Premium Series Landmark Merlot 2013 from the Bravdo Winery in Karmei Yosef. The wine was made with merlot grapes from the choice clonal selection. Every sip enhanced our meal with deep, complex flavors and aromas, just as one would expect of a romantic meal. A wine like this needs long decanting to aerate and reveal all its layers. When opening the bottle as you begin cooking, pour the wine into a decanter if you have one on hand, so that by the time the meal is ready the wine will have opened up.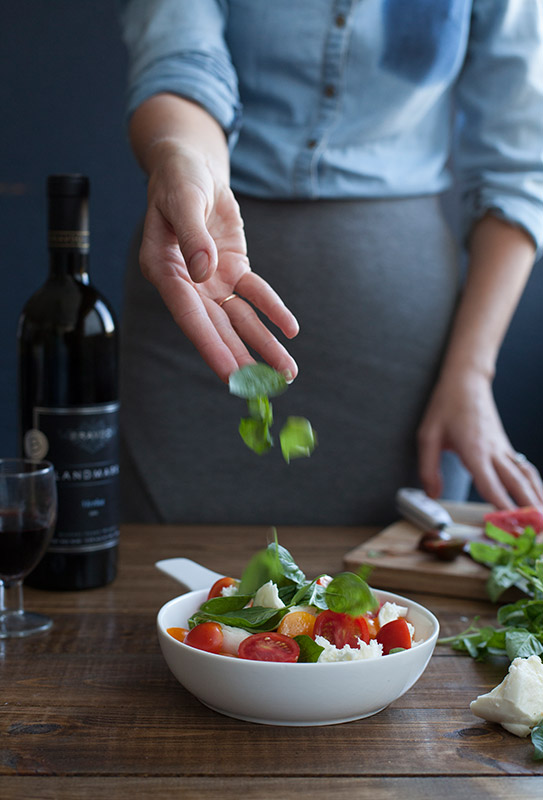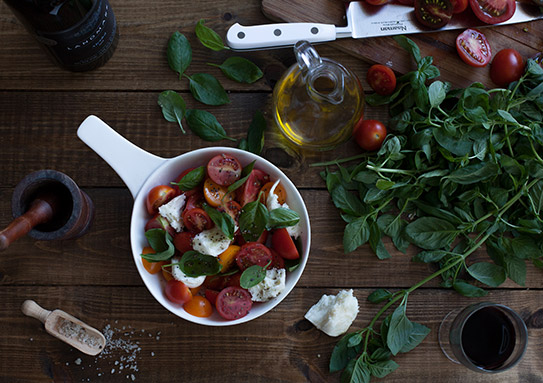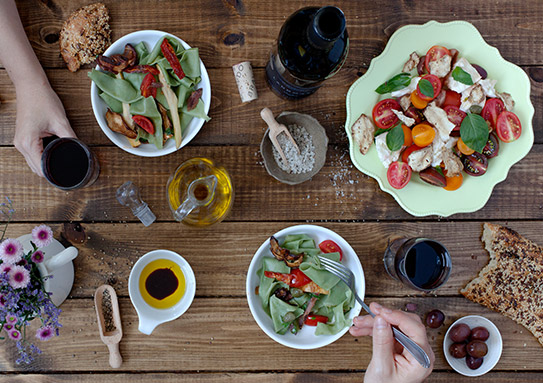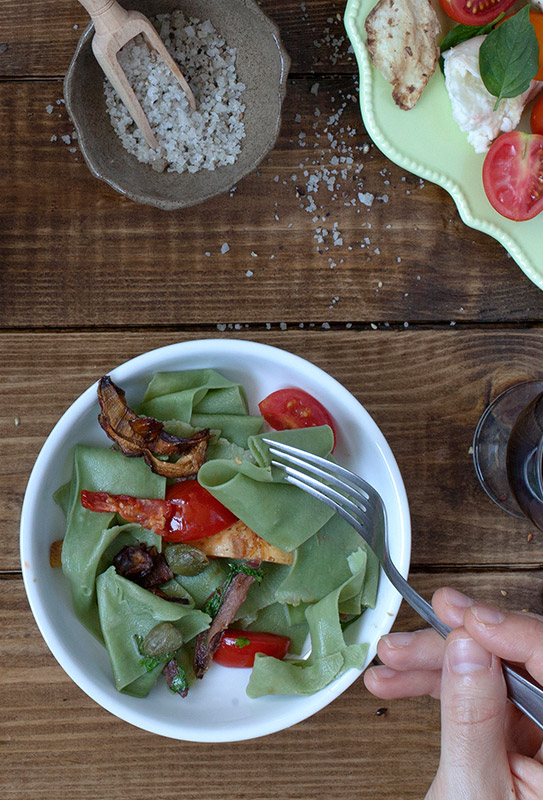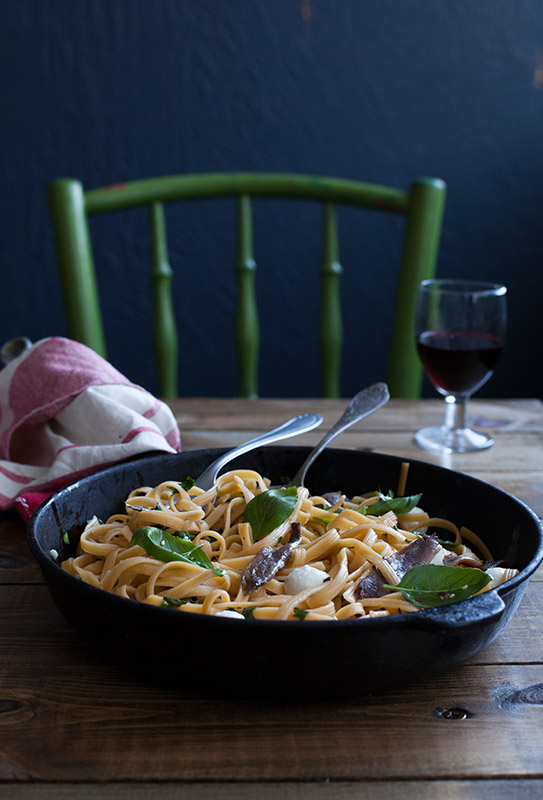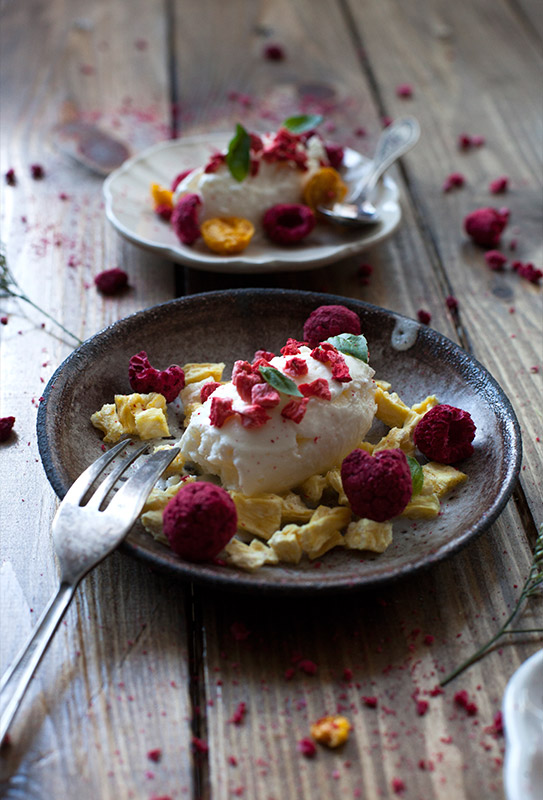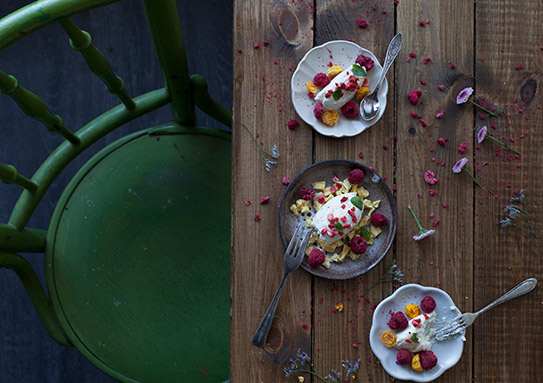 And of course, at this special time of year, let's wish us all a year filled with love, passion, and health. L'chaim!
The exclusive ingredients Liran has used can be found online at ELASTIC.
Chef: Liran Gruda
photographer: Gal Ben-Zeev Culinary photography
Styling: Inna Gutman
Video photography: Maayan Diskin Photography
Dishes: Naaman
Wine: Barvdo, LANDMARK MERLOT 2013
ART: MEDA
Concept & Production: Klaptish Magazine & Gal Ben-Zeev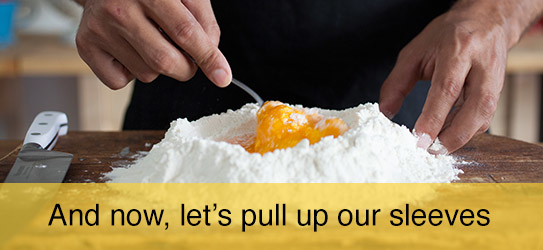 Pasta Puttanesca

For the dough:
100 grams 4PZ pasta flour
9 egg yolks
A pinch of salt
1 tbsp. of Spirulina (natural green food dye)
Combine all the ingredients into a uniform dough. If the dough feels dry, add 2-3 tablespoons of water. Cover with plastic and refrigerate.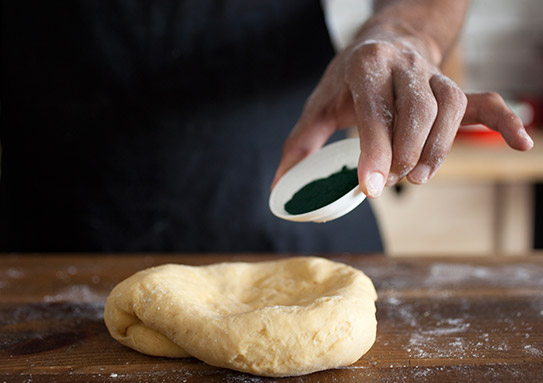 For the sauce:
A handful of halved cherry tomatoes
5 sliced cloves of garlic
3 canned Bell artichokes
4 anchovy fillets
A handful of oil-packed sun-dried tomatoes
2 dried morel mushrooms
A handful of dried chanterelle mushrooms
Salt
Pepper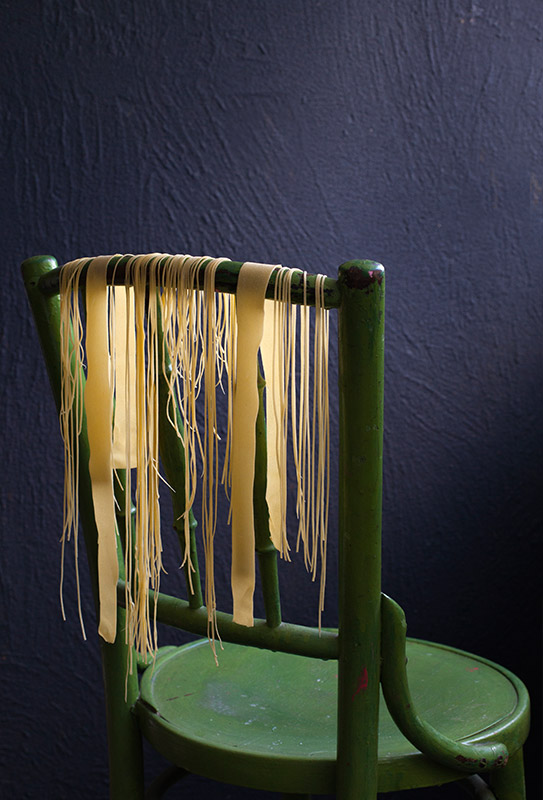 Combine ingredients in a pan with olive oil and some porcini broth (can be substituted with water). Cook for 3-5 minutes, add seasoning, and remove from heat.
Prepare the pasta according to directions to desired texture, stir in the sauce, and serve with parmesan and a handful of basil leaves.
Aromatic Caprese Salad

5 cherry tomatoes
5 chocolate cherry tomatoes
5 yellow cherry tomatoes
A bunch of basil
3-4 tbsp. pumpkin seed oil
Buffalo mozzarella
Lemon juice
Salt
Pepper
Halve the tomatoes. Place in a bowl with hand-shredded mozzarella. Gently add remaining ingredients taking care not to break the tomatoes, and serve.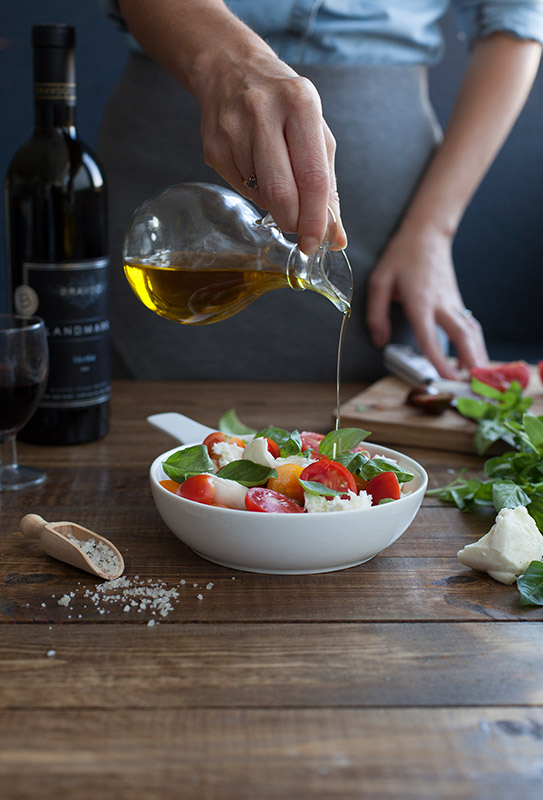 Dried Salmon Pasta

1 packet of salmon flavored dry pasta – cooked al dente
5 cherry tomatoes
4 garlic cloves
Walnut oil
1 packet of anchovy fillets
1 bunch of fresh za'atar
1 bunch of fresh basil
Small mozzarella balls in water
Combine all the ingredients in a pot besides the basil. Cook for half an hour. Add the pasta to absorb the flavors. Serve with chopped basil and a drizzle of walnut oil.

Mascarpone and Yogurt Mousse

360 grams mascarpone
90 grams icing sugar
70 grams 7% fat yogurt, preferably drained
160 grams whipping cream beaten until soft peaks form
In a mixer bowl, combine mascarpone and icing sugar with the k-beater until smooth. Fold in the drained yogurt, and then the whipped cream. Chill for 2-3 hours.
To serve:
Plate freeze-dried fruit, and add a dollop of mousse to the center of the plate.

Related articles